There is a wonderful treat perfectly fulfil your need of refreshment in extremely hot and highly humid summer in Japan. 'Kakigouri' is only a heap of shaved ice cubes yet it's amazingly enjoyable.
It is made of a large ice cube of pure water with no additions, only to shave like snowflakes it becomes a special treat in deed.
Since it's easy to melt for its delicacy, it is laden onto a bowl to the fullest yet it's easy to eat up because they are very light.
Over the heap of shaved ice, any syrup of your choice will be generously poured.
Many kinds of taste... smell
Most typically they are coloured syrup called with the name of 'strawberry' or 'melon' etc. only because of the colour.
Uji-kintoki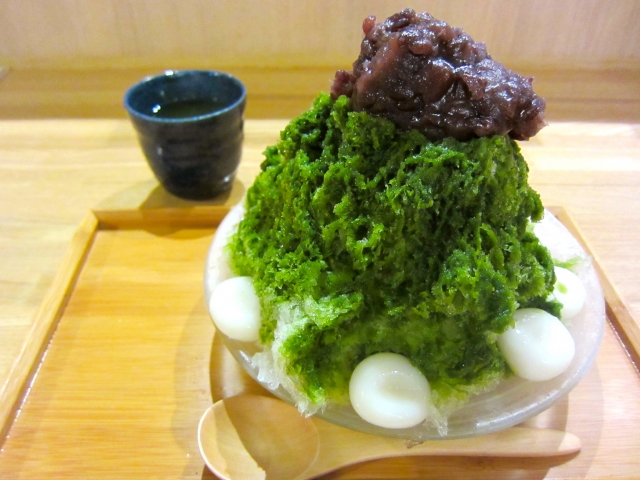 For the people who prefer something genuine and classic, pouring of condensed milk shall be satisfying. It is often topped with a scoop of 'Anko' – sweet red-bean paste and even with Matcha (powdered green tea) sauce which creates the combination of sweet and bitter.
Classic restaurants and cafés will serve handsome Kakigouri with a bit expensive charge as for shaven frozen water, this easy-to-prepare dessert is much available at decent price at stalls found at every summer events.
No cream and no eggs. Kakigouri is absolutely a healthy option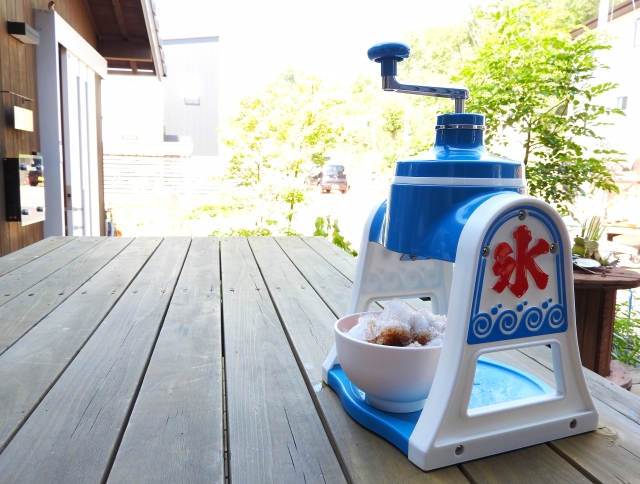 There is a Kakigouri shaver specifically designed to serve neatly upon individual bowls while shaving is available at market during the season.
All you need is to freeze drinking water in the attached cup and shave it by steering the handle of the shaver.
If you are not willing to move your arms and sweat, you can choose electric powered type. Pour over any choice of the syrup you feel like. You will be rewarded.