The kotatsu is an ingenious way of keeping warm in winter.
'Kotatsu' is one of the heating equipment widely used in Japanese homes. It is actually one of the symbolic items of Japanese winter homey scenes. The uniqueness of Kotatsu is its build.
Kotatsu structure
The low table covered by a duvet or comforter upon which the tabletop is placed. Underneath the table, the heating source is attached so that it creates warm space within.
To shut the cold arising from the floor, Kotatsu is usually set upon a carpet that fits the size of the Kotatsu.
You are not cold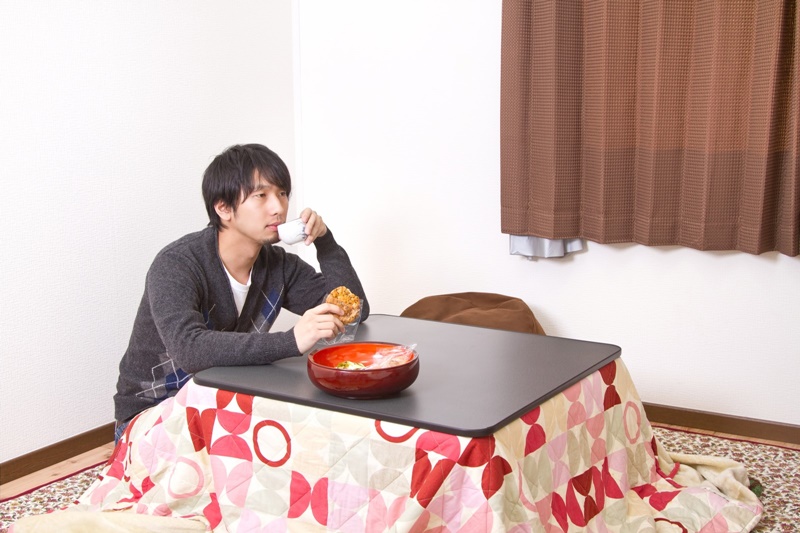 To enjoy the warmth, users simply put their legs inside the duvet. Their upper body is still in the cold air but no worries; as they won't suffer much from the coldness -- scientifically, you would not really feel cold as far as your legs are kept warm.

The underside of the tabletop sometimes has a green felt covering so that the kotatsu can be used for playing mahjong! Fashionable Western-style kotatsu tables are now available that can be used year-round as an ordinary table.
Make communication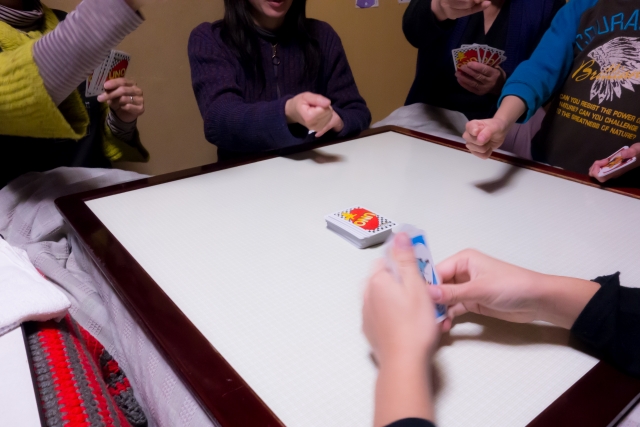 Since family members will gather around the Kotatsu to get themselves warmed, it naturally brings the opportunity for a family to get together and communicate each other.
Will it be lazy?
Kotatsu serves for everything a table could serve. People eat there, study there, and chat and watch TV there. Since it is very cozy, it often makes users lazy and drowsy, and allures them to sleep there!
A traditional type of kotatsu:Hori-Gotatsu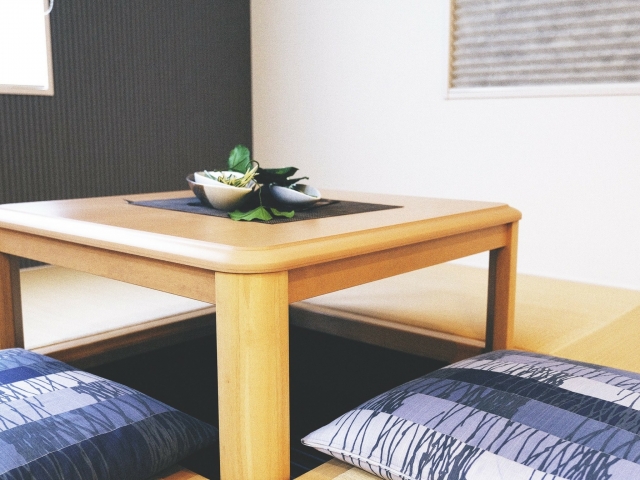 The kotatsu is an ingenious way of keeping warm in winter. but traditional kotatsu is different from modern kotatsu.
The form is a low table covered with the same comforter, but placed on a hollow floor.At the bottom of the table is a brazier or fire pot for holding briquettes and charcoal, which is the heat source.
We put our feet in this hollow and kept the interior warm by putting a kotatsu on it.
This is called "hori-gotatu" and can only be seen in traditional houses.
Many foreigners may leave comments in this way.
"Feel very warm, but back and neck still cold!"
There is a reason for that, because our clothing can not get the benefits from Kotatsu.
When we used kotatsu, we wore loose kimono.
As a result, I could feel the warmth of my back and neck because warm air from the hem of the kimono could rise into the clothes.
In that sense, today's usage of kotatsu may not be full of its original charm.
Try me
A kotatsu is a heating appliance that often appears in Japanese animation. It is a very comfortable heater, but it has the potential to turn you into a lazy person.